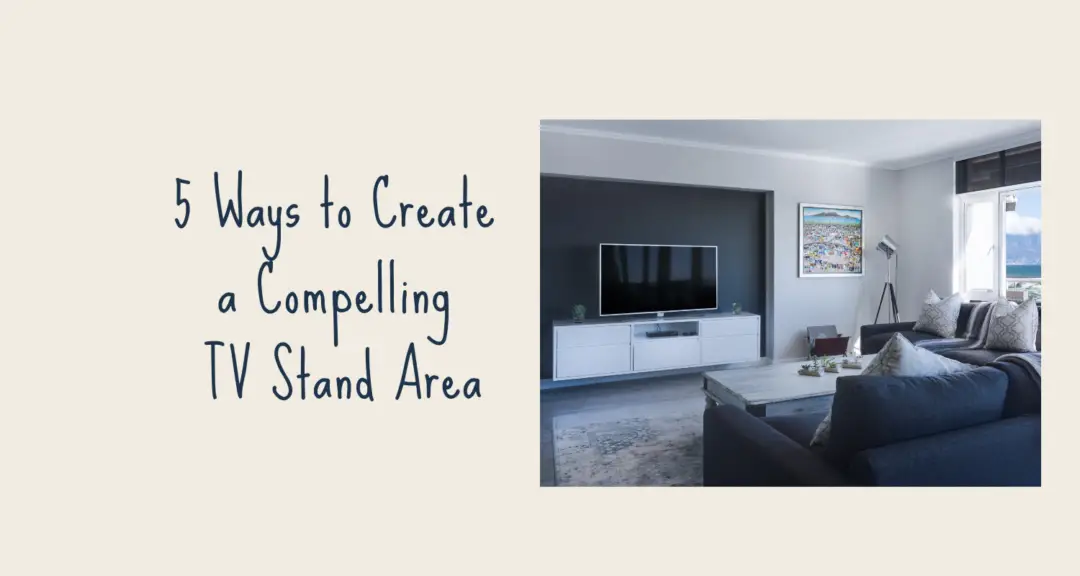 5 Ways to Create a Compelling TV Stand Area
Despite the superfluous and extensive development in technology and digital devices to delve into series and movies, a TV will always be needed for family times. There are no better ways to enjoy time with family and friends than sitting in front of the TV and watching a memorable show. For this reason, the TV placement is a major aspect to think about. You can optimize its setup to suit you and your loved ones.
Designing a remarkable TV area isn't a difficult job, but it can seem undoable when you don't have a regular room, the right TV stand, decorative elements, and so on. These aspects can create havoc in designing and keep you from building an aesthetic space. 
Fortunately, the following suggestions can help you get the best TV stand ideas for your modern living room:
Open it up…
Shelves and other open spaces for storage are all the rage these days. These are easy to install and provide proficient spaces for decorating and using as storage for important household equipment. 
Similarly, you can create a nice DIY top-shelf matching the TV stand that gives you some extra and safe space to store precious artifacts or other important items. You can also build shelves around the TV stand just for the sake of décor and get to use the extra space for more stuff. 
Invest in a Black Glossy Stand…
According to current trends, a simple or varnished black TV stand is one of the best ways to decorate the area. This is a great structure for storing the TV, bringing out a chic and dark look while being modern. 
Glossy black flat screen TV stands match the outline of the screen significantly. This makes the whole television look sleek in design and your living room space will have a classy ambience. Make sure you invest in a smart and quality design for a dark TV stand to suit your TV screen just right.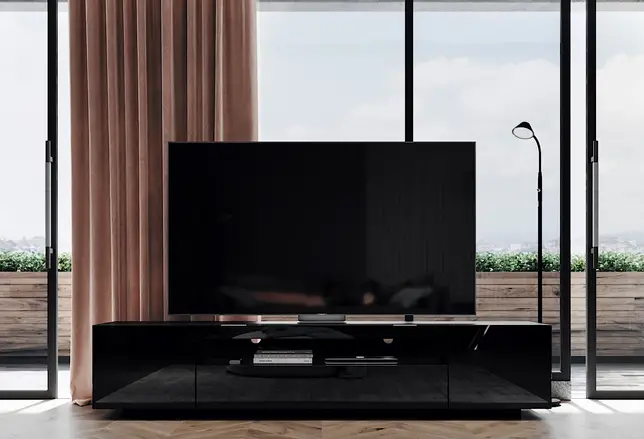 Antiquate with a Mid Century Style…
The current era is all about bringing back the designs of the past and adding several modern features to them to provide vintage and comfortable aspects. Likewise, this can also happen with the use of a mid-century style TV stand made out of wood and minimalist in structure. 
This design is well-suited for bedrooms where highly fashioned ones only cramp up space. You can find several options for these vintage-styled stands consisting of slated cabinets and minimalist shelves. 
Go the Extra Mile for Entertainment…
If you want your TV stand to scream fun and excitement, invest in a large entertainment center tv stand that can include all your entertainment essentials for charming guests and family. These LED TV stands are really trendy these days.
There are a lot of style options, from TV panels to LED lights and a vast space for decorative items and easy storage. Not to mention, the whole façade looks outstanding and creates a cozy TV corner for all things entertainment. 
Create a Corner…
If you have a small area in the living room or your bedroom for adding a TV and don't know what to use as support, you can try several great devices as corner TV stands in the market. These are specifically created to fit corner spaces and offer great décor appeal. 
If you can't find such a stand, you can always use a chest with drawers to support your flat screen and provide extra storage. Add this design to a small room in a corridor to enjoy some alone TV time and relaxation in the afternoons.