Top Shelf Clearance Challenge – August 2019
It's time for another Top Shelf Clearance Challenge!  I had to miss out last month because we were traveling, so I am happy to be back!
Please check out my super creative, crafty and extremely talented blogger friends who also participated in this challenge.  Links to all their blogs and their Clearance Challenge Projects are listed at the bottom of this post.
About this Challenge…
The rules for the Top Shelf Clearance Challenge are as follows.  Buy at least one clearance item for $15 or less.  Take a photo of the clearance item and the clearance sticker(s).  Then take the item(s) and style them or transform them as you wish.
In case you missed any of my last Clearance Challenges, you can see them all here.
This post contains some affiliate links for your convenience (which means if you make a purchase after clicking a link I will earn a small commission which helps keep my blog up and running but it won't cost you a penny more)!
Here is what I found…
This month I found the cutest nautical buoy on the Home Goods Clearance Shelves for $12.  If you've been following me for a while then you know I love (or maybe I am a little obsessed with) all things Coastal, Beachy and Nautical in my home, so I knew this would look great somewhere in the House house.
What to do with it…
My husband suggested I monogram it.  What a good idea!  I started by picking out a 'nautical looking' font.  Iowan Old Style did the trick for me.  Next, I printed out the letter H large enough to fit on the buoy, but not too large.  Then I turned over the paper, scribbled all over the letter, then turned it back placed it on the buoy and traced.  This makes an outline for you to paint in.
Then I took a white paint pen and painted in the letter.  I LOVE paint pens (you can find them on amazon, too)! I've used them for several projects like this farmhouse sign, and this sign I made for our pool area.
Below is the finished product.  Not half bad!  I like it.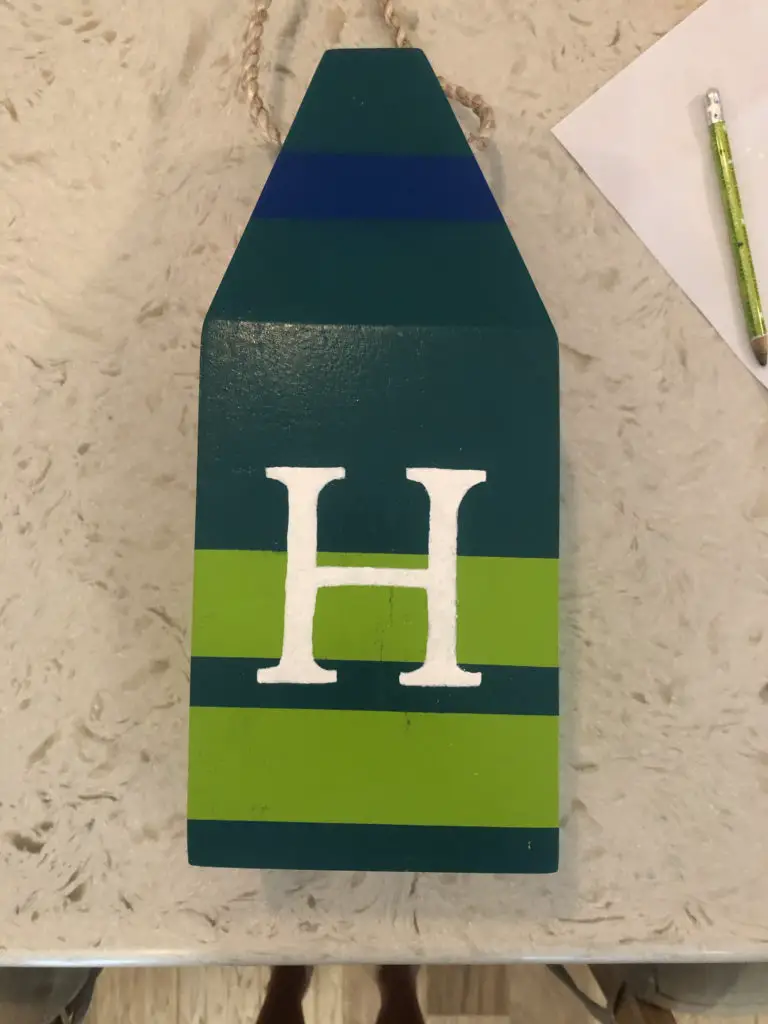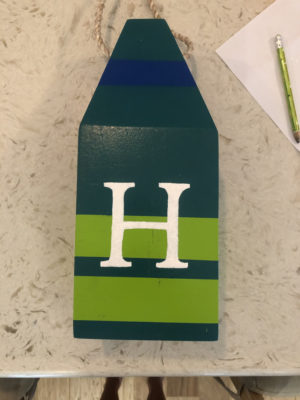 Where I put it…
I recently hung up a Lighthouse Gallery Wall in my dining room, so I figured it would look good in there and go perfectly with the nautical/coastal theme.  The top of my hutch was looking a little bare so that is where I decided to put it, along with some other treasures I already had in other places in my home.  I took that photograph a few years ago when we were in Key Largo and have been wanting to put it somewhere in my home.  Seems like a good spot to me.
And there ya have it.  Easy peasy.
PS – This dining room set is pretty old and MAY be getting a makeover soon.  The dark brown color just isn't doing it for me anymore.  I'll just add it to my long list of projects.  🙂
Please check out all the talented blogger friends below and see what they found on the Clearance Shelves this month.