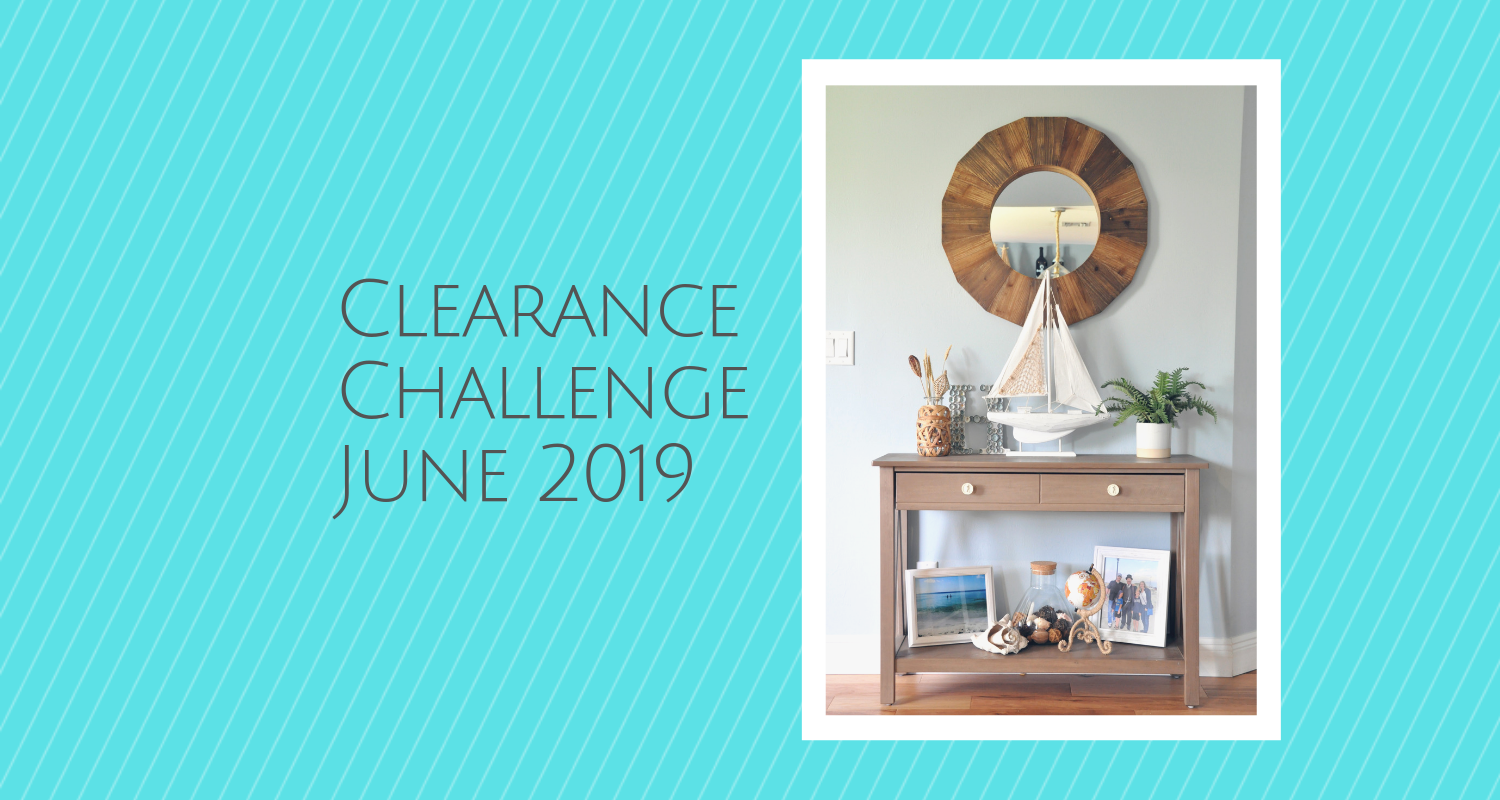 June Clearance Challenge – Global Takeover
It is that time again!  It's Top Shelf Clearance Challenge time!  A group of fun and creative bloggers and I do this once a month. Links to all their blogs, and their awesome clearance finds, are listed at the bottom of this post.
Click here to see my February, March, April, and May Clearance Challenge Projects
About this Challenge…
The rules for the Top Shelf Clearance Challenge are as follows.  Buy at least one clearance item for $15 or less.  Then take the item(s) and do with them as you wish.
This post contains some affiliate links for your convenience (which means if you make a purchase after clicking a link I will earn a small commission which helps keep my blog up and running but it won't cost you a penny more)!
---
Here is what I found for this month's Clearance Challenge…
This month was an easy one for me.  Sometimes I struggle to find items and have to visit lots of stores.  Not this month!  I actually found 3 great things on the clearance shelves, and still kept under the $15 limit.  Everything was already in great shape, so there was no need to spruce them up, or paint, or transform them, like I've done in past clearance challenges.
I have been into Globes lately (check out this globe pendant light I made recently) and found these 2 cuties from the clearance shelves.  I found the globe on the left at Hobby Lobby marked for $5.49.  Then I walked over to Tuesday Morning (they are in the same plaza) and found the globe on the right marked down to $4.00, down from $19.99!  Naturally I had to get them both. 🙂  There is a global takeover going on in my home!  🙂  I also found this box of decorative spheres or 'vase filler' as it was called for $2.49.  It looked nautical/beachy to me, which is my style, so I figured I'd use it somewhere.
What I did with my Clearance Finds…
When I got home I decided to place them on the console table in my entrance way.  The table was looking a little bare and boring.  I've been wanting to liven it up somehow.  The 2 frames on the shelf with family photos were already there and I planned to keep them.  I started by putting the vase filler/spheres into this container I already owned, added a few shells from my collection to it, and then placed it in the middle of the 2 frames.  Next, I added one of the globes, and a large conch shell.  After playing around with the placement a bit, I ended up with this.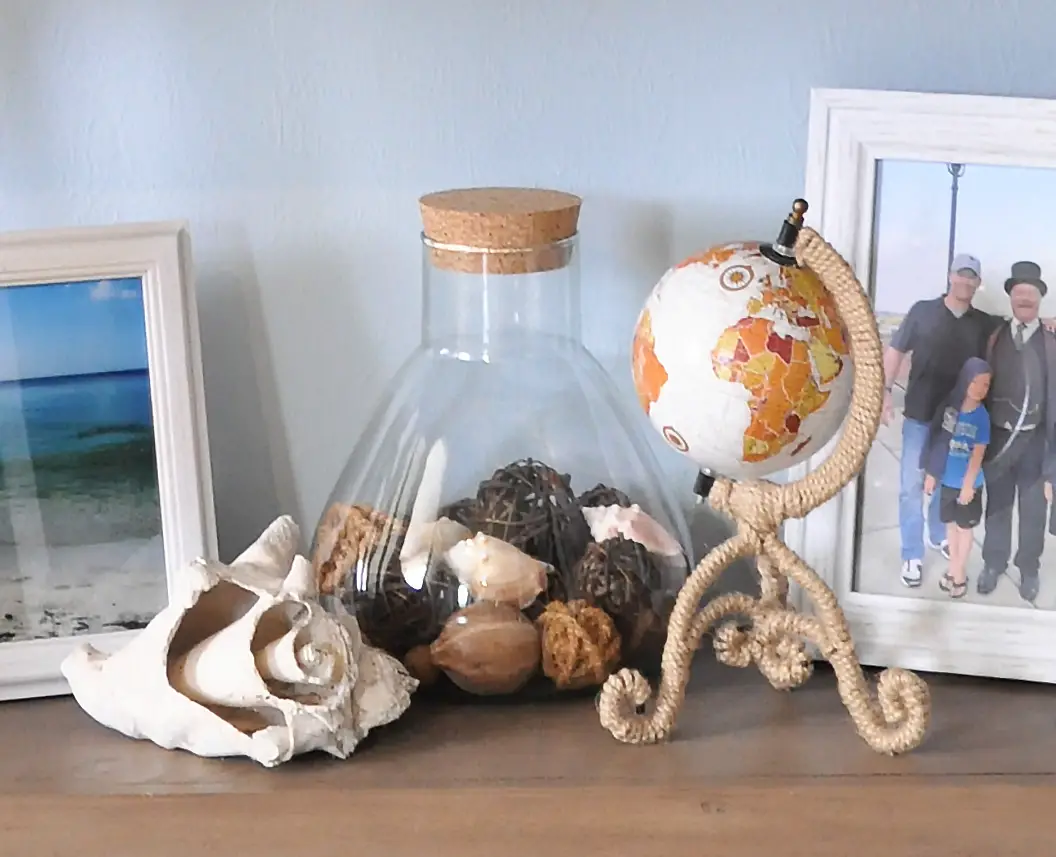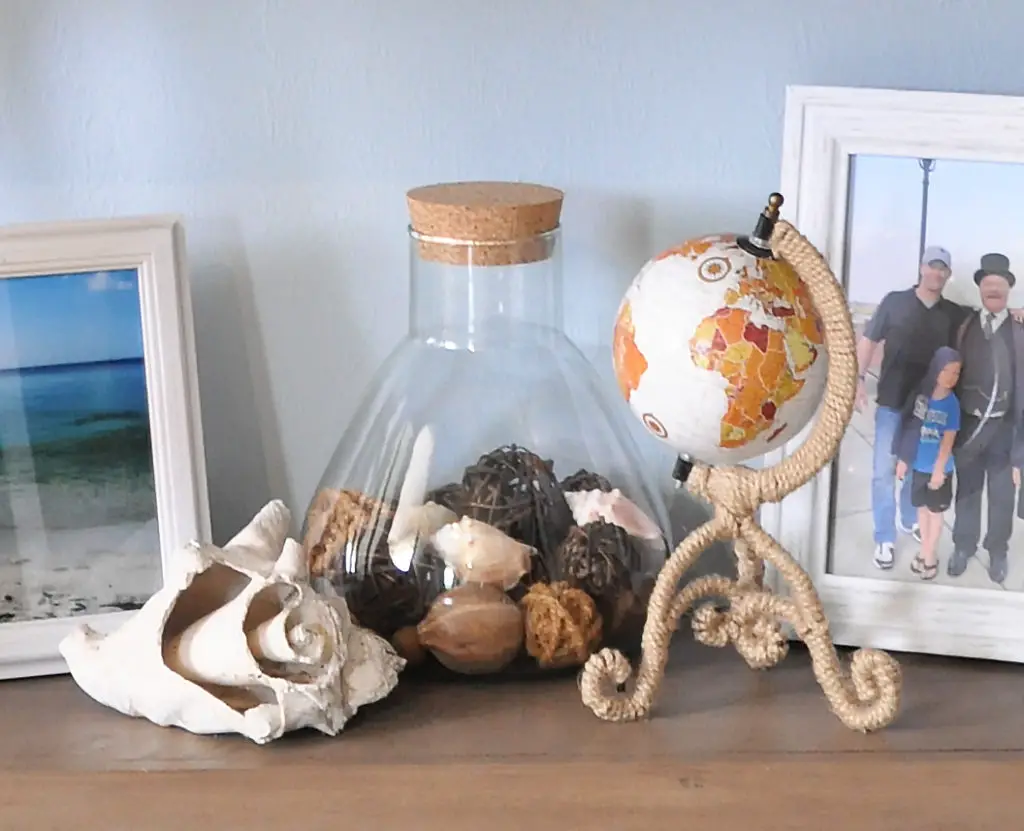 Below is a better view of the entire table.
In case you are wondering, the mirror is from Target. They don't sell this one anymore, but here is a sort of similar coastal one that is beautiful!  Or, check this one out.  The console table is from Wayfair and is a great deal at only $152.  I changed the knobs and used these fun sea horse ones from Amazon.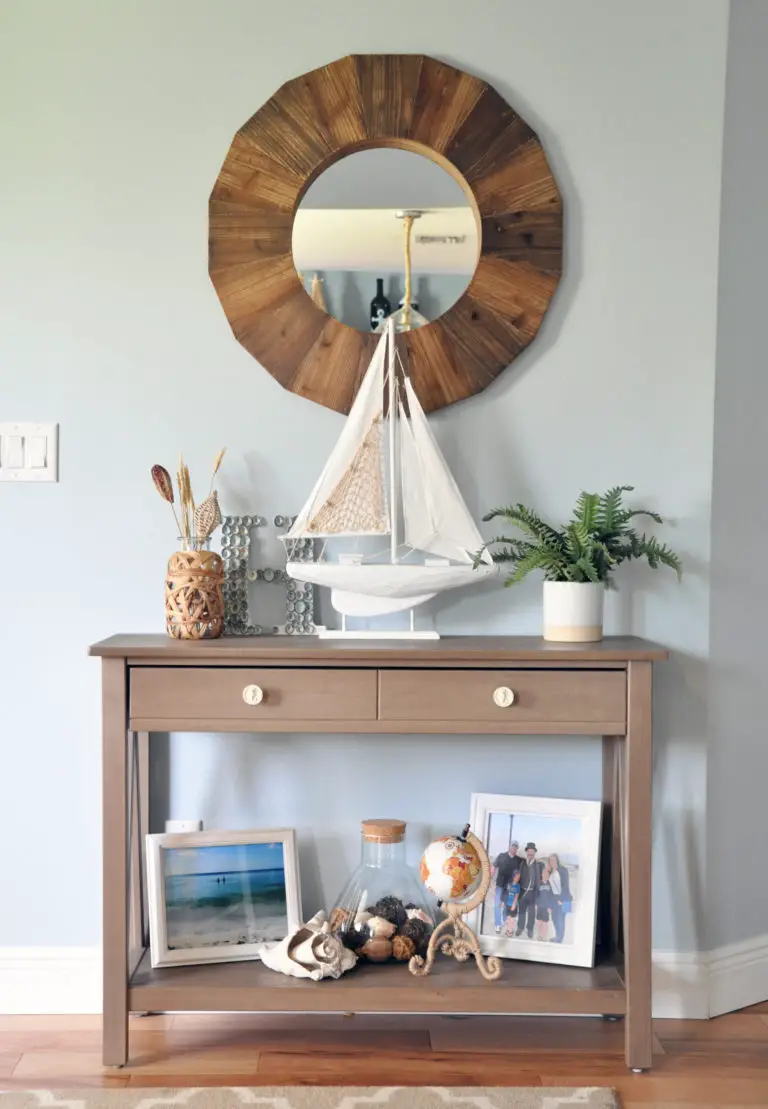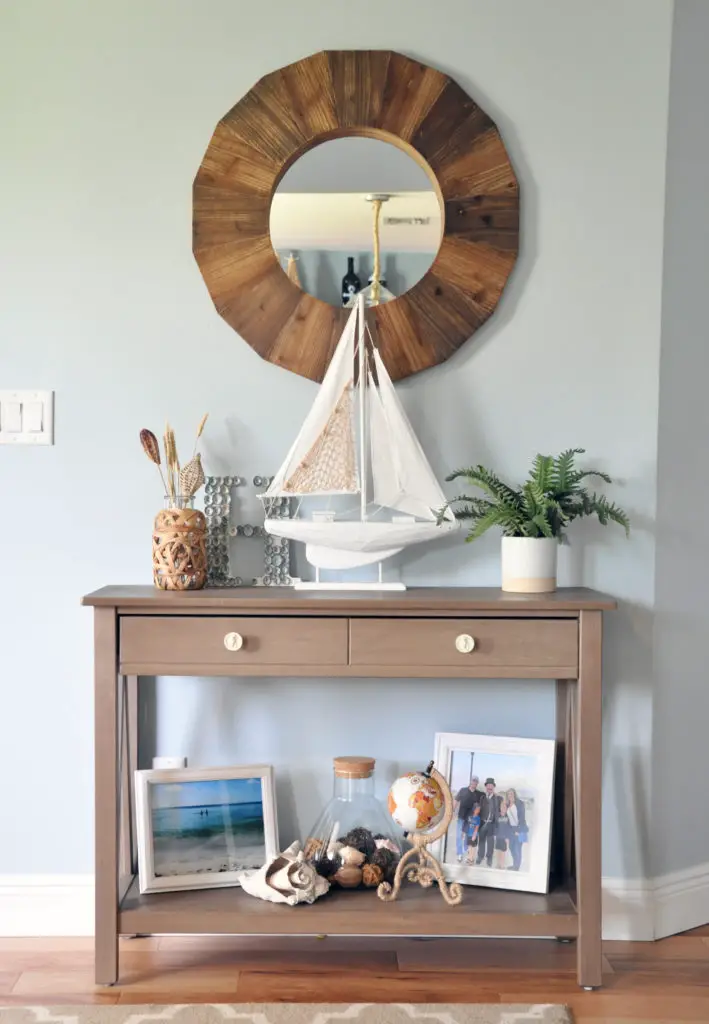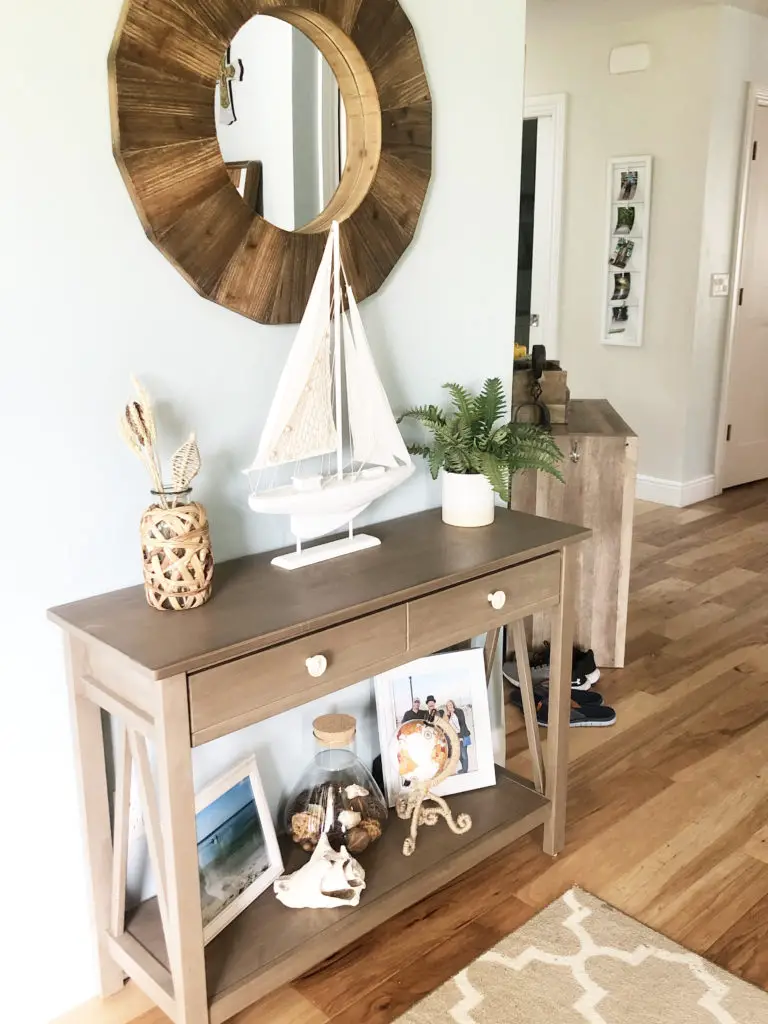 But Wait, I'm not Done Yet…
Maybe you're wondering what happened to the other globe?  Originally, I tried using it on the entrance console table too, but I wasn't diggin' how it looked.  After trying a few different places in my home, I decided to try it on the console table beneath our living room tv.  Bingo!  Looked perfect there.  See below…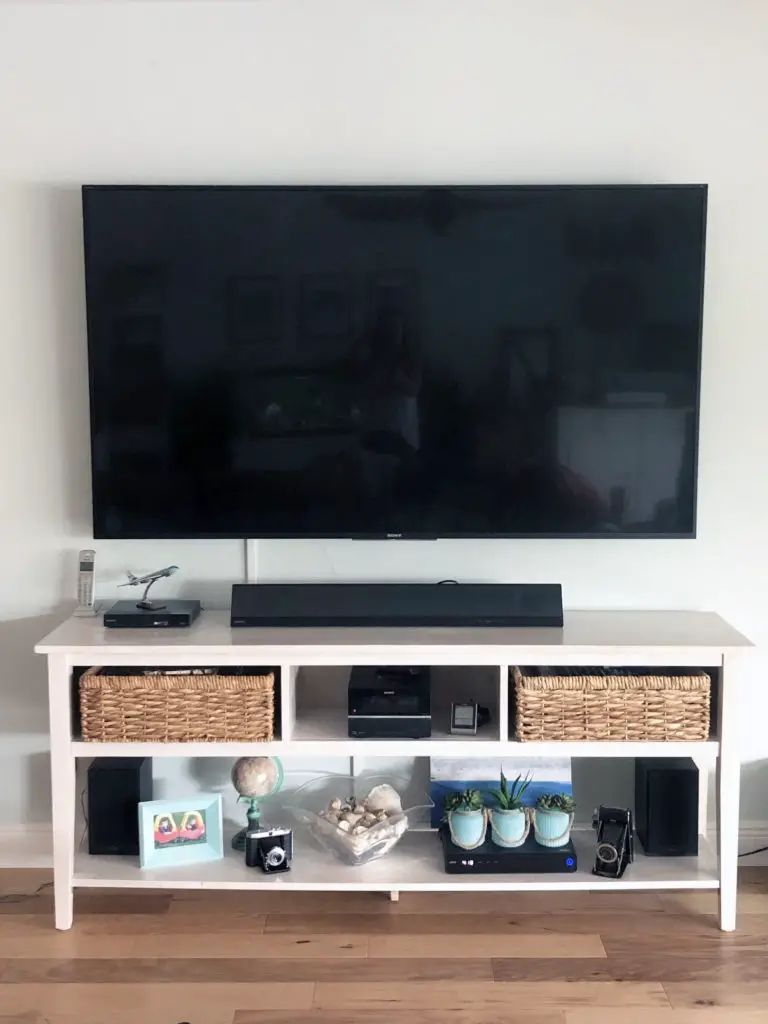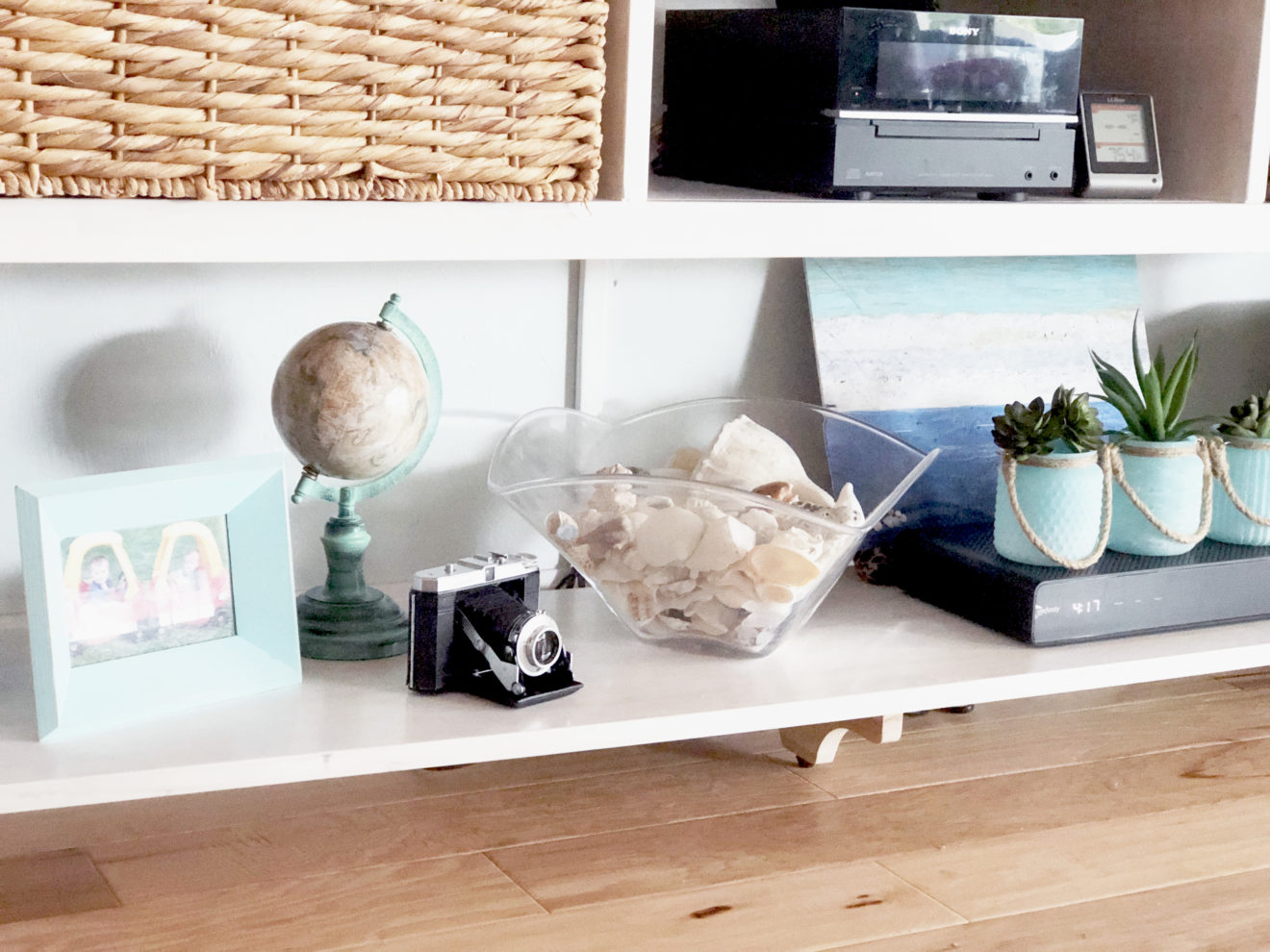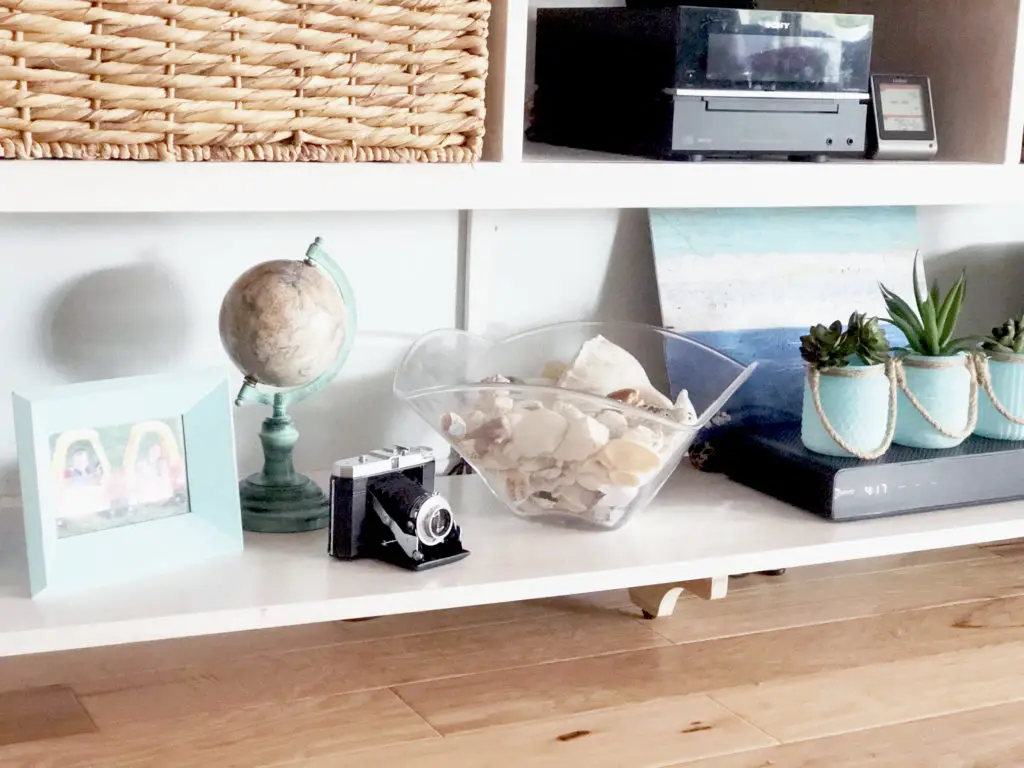 AND…..That's it this for this month's challenge. Very simple and easy.  Never underestimate the clearance shelves, people!  You can find the BEST stuff!  Sometime it needs sprucing up, but sometimes you get lucky and it looks just fine as is.  Lots of stores have huge clearance sales a few times a year with really good stuff.
What has been your favorite clearance find?
Please be sure to check out all the other bloggers projects and see what they found on the Clearance Shelves this month!  Trust me, you don't want to miss out.  These ladies are so creative!